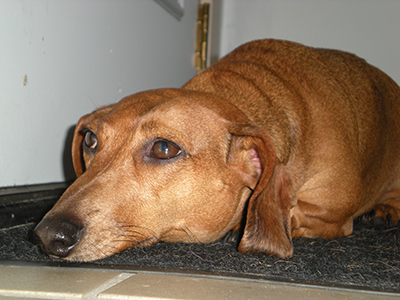 Shhhh…
They think they are at home.
Our friendly staff and cozy atmosphere trick them every time! At Home away from Home we offer a variety of boarding options to fit your furry family members needs.
K-9 Luxury VIP Suites Features
Raised Bedding
Extra large Kennels
Flat Screen Television
Scenic Front Yard & Lake View
Web Cams for Client viewing
Customizable exercise and play time programs
Kitty Condo Features
Custom sized cages to fit your kitty's space needs
Exercise & play time out of the cage everyday
Audiovisual entertainment
Standard Boarding
24 x 30 cage (Small)
36 x 30 cage (Medium)
3′ x 6′ Runs (Large)
  VACCINATION REQUIREMENTS
DOGS                                                                CATS
RABIES (16 WEEKS OF AGE)                      *RABIES (16 WEEKS OF AGE)
DISTEMPER (FULL SERIES)                        *FELINE DISTEMPER (FVRCPR)
YEARLY BORDETELLA                                    FELINE LEUKEMIA (FELUKR)
Vaccine or negative test
NEGATIVE YEARLY FECAL                           NEGATIVE YEARLY FECAL
INFLUENZA (eff. Oct. 1st 2015)
*****FOR THE PROTECTION OF YOUR PET AND OUR BOARDING AND DAYCARE GUESTS ALL VACCINATION RECORDS MUST BE ON FILE BEFORE THE 1ST DAY OF BOARDING OR DAYCARE OR WE WILL NOT BE ABLE TO ACCEPT YOUR PET.
THANK YOU FOR YOUR UNDERSTANDING.
DOGS MUST BE ON HEARTGUARD, SENTINAL, INTERCEPTOR OR SOME KIND OF HEARTWORM PREVENTATIVE WITH AN ANTI-PARASITIC. WE MUST SEE EITHER THE SALES RECEIPT OR THE BOX. ALL PETS MUST BE ON A FLEA AND TICK PREVENTATIVE.
NOTE: BORDETELLA INTRANASAL: 3 DAYS TO TAKE EFFECT
             BORDETELLA INJECTION: 2 WEEKS TO TAKE EFFECT
CAT
*FECAL + FELUKR test/vaccine NOT REQUIRED IF TO STAY IN CONDO